Painters Department





As with all the disciplines in the C&W department, the painters have a core team with occasional helpers. The departmental supervisor is Dave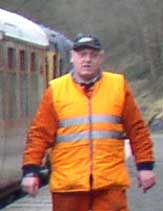 Simpson, an expert letterer, liner outer and scumbler. His deputy for many years has been and still is Jim Ormiston - an expert needle gunner amongst other things. The other regular member of the team is Jim Summers, a master of small detail (seeing as he is a "Scale 4" modeller).




The department should really be described as "Painting and Interior Restoration" as they can turn their hands to more than weilding a paint brush or roller. The internal trim and tables of 13803 were all fitted by the boys - they can do mean things with a screwdriver. Roofs are another area of expertise - the fibreglass on 13803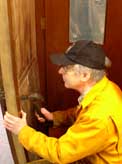 plus the fitting of the rain moulding (tricky bit of measuring there!) are down to their efforts. Andrew Syme and Reg Parsons are also dragooned into assisting.