The Branchline Mk1 Coaches
The normal consist for the branchline train was 2 TSOs (4484 and 4422) and a Brake (9237). The RMB 1866 is in the same Green and Cream livery and is used occasionally. It is seen here immediately behind the locomotive in this shot taken in 2002 (photo DGC). TSO 4422 has been modified at the east end for use by disabled passengers. The end bay of seats has been removed and the door into the gangway widened. The BSK 9237 is normally coupled to this vehicle and wheelchair access is then possible through the double doors in the luggage compartment. Awheelchair ramp is kept on the Bo'ness station platform for this purpose.
>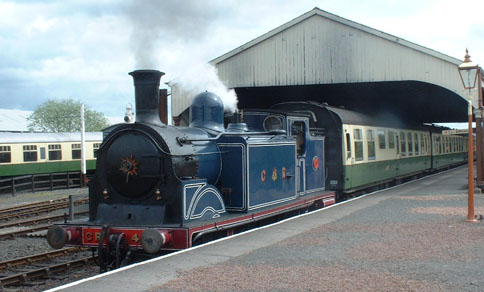 More recently the branch set has normally been 4 vehicles - 2 x TSO, 1 x RMB and 1 x BSK. The inclusion of the RMB has allowed development of a very successful "afternoon tea" service. During special events e.g "Thomas" and "Santas", the train has been made up to 6 or 7 vehicles ever since the lengthening of the platform at Birkhill.
The other vehicle on-site in the same livery is visible to the left of the photo. This is FK 13228 which was used as the "headquarters" for the Scotland Against Drugs project. This project has injected a lot of effort into the renovation of the SRPS's fleet of wagons.
Slow chargers are fitted to 4422, 9237 and 1866. 1866 was the testbed for the development of the slow charger system - this is the vehicle which had its WC dynamo changed to a WA dynamo during the lunchtime break in the regular timetable (45 mins). Since the 2007 running season, the regular branchline brake 9237 has been sidelined (due to flange wear and bodywork corrosion problems?) and 21241, then 35405 used instead. All the Branchline vehicles are fitted with LED lighting to improve illumination levels and extend battery life.
Since 2007 all of the Branchline vehicles have been repainted from Green and Cream to Carmine and Cream (Blood & custard).
Mk1 vehicles which see branchline use are:
| | | | |
| --- | --- | --- | --- |
| 4529 | TSO | Blood & Custard | BR 1 bogies |
| 35405 | BFK | Blood & custard | Commonwealth bogies |
| 9237 | BSO | Green & cream | Commonwealth |
| 4422 | Disabled TSO | Blood & custard | Commonwealth |
| 4844 | TSO | Green & cream | Commonwealth |
| 1866 | RMB | Blood & custard | Commonwealth |
| 4215 | TSO | Blood & custard | BR 1 bogies |
| 5028 | TSO | Blood & custard | Commonwealth |