Rebuilding Gresley Buffet 644 - Chapter 23
Spring 2009 has seen much progress with both the interior and the roof of 644. Dave Simpson completed the papering of the ceiling and overpainted it in white. Jim Summers applied all the underside mouldings to "cover the gaps" where the birch plywood boards met.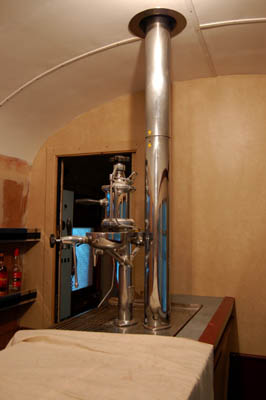 This view shows Glyn's "Boiler Lum" assembled but not fixed in position, as the boiler still had to come out for inspection by the CORGI man. Because of the upcoming disruption, the large vent which goes on the roof to shield the top of the flue was not screwed in place either.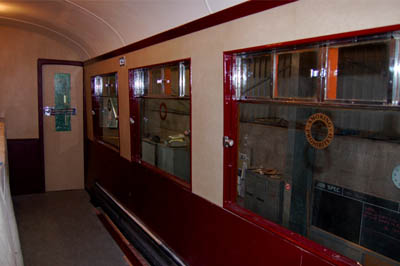 The upper half of the south side of the saloon is shown here with the leatherette cloth completed. The interior window frames had also been finally tweaked and assembled in place complete with a final coat of gloss maroon. DS had affixed the No Smoking roundels to the windows when this photo was taken. Immediately thereafter the window bars were put in place.
Most of the roof ventilators were refitted. As you can see in this shot, there is a line of torpedo vents down the centre line of the saloon. Two larger vents are used at the west end - one for the boiler flue and one for the extractor fan. While the staging was in place for this operation, Don took the opportunity of fitting the step at either end of the roof and assembled the passcom valve mechanism at the west end of the coach roof.

All the items of roof furniture were screwed to the roof with a hefty "donut" of paintable sealant beneath acting as a cushion to hopefully keep rainwater out.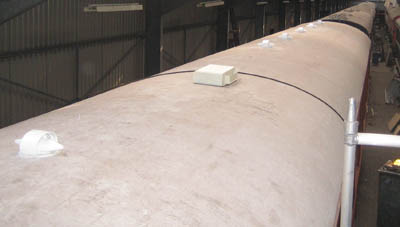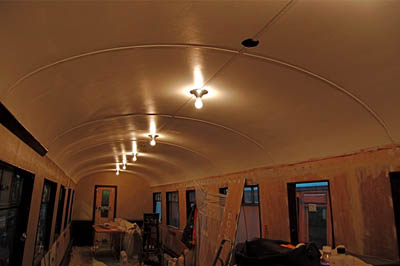 The photo on the left (courtesy Jim Ormiston as are the top two photos) shows the saloon looking towards the east end vestibule. All Jim Summers' hard work with the ceiling mouldings is clearly displayed. The vehicle north side (to the left) has been covered with leatherette cloth - pale colour for the top half. The lower panels were not yet completely covered with maroon leatherette when this photo was taken in early April. At this time, the remaining window frames were being reassembled and the cantrail internal moulding painted and erected.