Renovation of NB Invalid Saloon 461 - Introduction
In the spring of 2008, the number of jobs on 644 which were within the capabilities of the "Thursday Squad" was rapidly diminishing, so the decision was made to work on the NB saloon no.461 to bring it back into usable condition for running on the Bo'ness branch. It was hoped that work on 461 could run in parallel with the major amount of decorating work still to be done in (and outside) 644 so that the two vehicles would be ready for traffic at approximately the same time.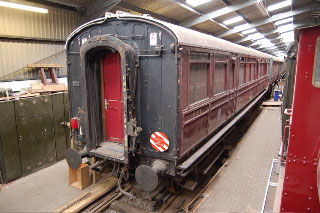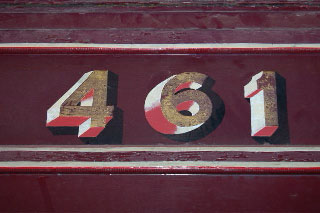 The saloon had been modified for use as the " Buffer Stop" buffet and the vehicle had for many years been a favourite fixture in the bay platform at Bo'ness. However, with the opening of the station buffet in the late 1990's, poor old 461 had outlived its usefulness as a purveyor of comestibles and it was moved to the RCB where it took on the role of wardrobe for operating staff working clothes & uniforms.
461 was built by the North British Railway company at Cowlairs in 1919.
The vehicle is vacuum braked and steam heated.

In 1958 the coach was extensively modified to the layout from which we started the "renovation". You can read all about the history of 461 here.
The gangway at the west end has been retained complete with pullman gangway adaptors so it should be possible to run the coach in conjunction with 644 or any of our Mk1 stock.
Hopefully the roof would not require any major attention as it had been renovated while in the possession of the SRPS some years previously. A cursory initial inspection did not show up any major problems.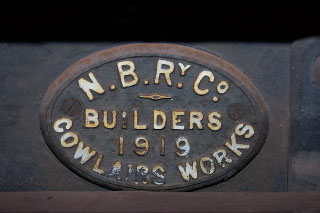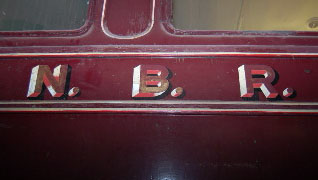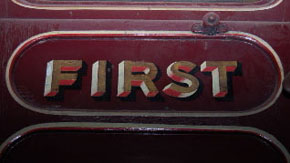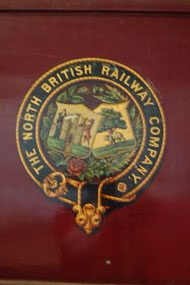 The first thing we did was to identify the scope of the work and make out an approximate costing.
The plan was to refurbish the two saloons; the west saloon would probably need the interior wall cladding replaced; a new corridor door was required; the serving hatch needed to be closed off; the guard's compartment needed a door and partition; carpeting was to be laid in both saloons; some tables were to be fitted in the west saloon; free standing seating to be provided for the east saloon.
Externally, the coach would receive a repaint after repairing all the rot especially at the east end below the windows. The south side of the coach was in rather worse condition than the north side as the south side faced wind, weather and (occasionally) sun. The running gear was to be overhauled and the coach returned from the current mains wiring to a 24v battery based system.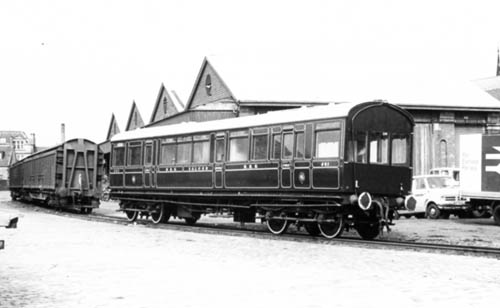 Springfield Yard, Falkirk, 24.5.81. Awaiting removal to Bo'ness. Photo H Stevenson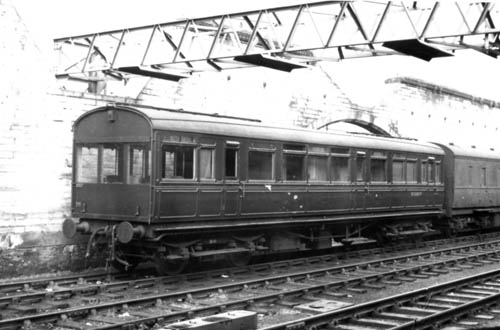 At Perth as SC320577. Photo N Skinner