Renovating NB Invalid Saloon 461 - Chapter 9
The oak panelling in the corridor was stripped by Jim Ormiston prior to staining it up to match the doors. Being a corridor where there was plenty of human traffic, the panelling was severely marked - this took a lot of work to clean up. A mixture of sanding, scraping and application of Nitromors were the tools used as well as a great deal of elbow grease.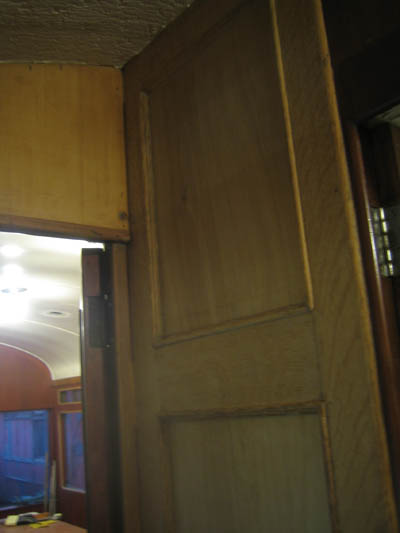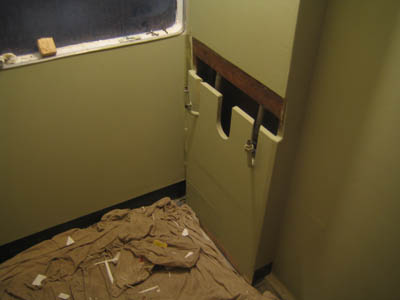 The toilet was painted by Dave Simpson after the new linoleum was laid. The photo above shows the completed work before Matt (of Railtour fame) got to work re-installing the toilet and the wash-hand basin.
The running boards were in a poor condition. The one on the north side had to be completely replaced and two thirds of the south side also needed re-manufactured. The photo below shows Jim Summers trial fitting the south side end boarding.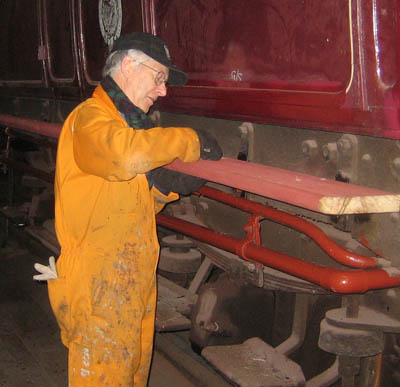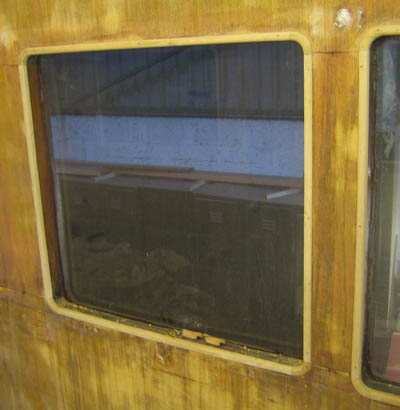 Robbie Thompson and Don Clarke made new mouldings for the windows in the east and west saloons to replace the tatty aluminium ones fitted during the BR era. The straight sections for the west saloon were made on our router from oak flooring rescued from a skip by Peter Howell. The curved corners were made by (Don) turning a complete ring to match as closely as possible the section of the straight pieces, then quartering the ring on the bandsaw to make the four corner pieces for each window. The same technique was used for the east saloon, but here mahogany was used to match the panelling.
After pinning in place, sharp chisels and much sand papering was required to accurately match the straight sections with the curved corners (see above).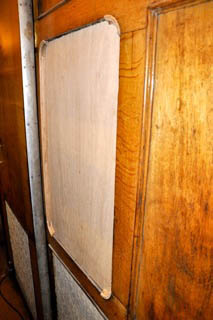 There was a frosted window between the corridor and the kitchen which appeared to be of BR vintage. It also appeared to be non-toughened so, from a safety point of view, we decided it would be better to replace it with a wooden panel which would be rather more difficult to put one's elbow through. The panel was made from a laminate of thick plywood and some oak veneer plywood. The moulding holding it in place was made from more of Dr Howell's oak flooring and the corner pieces again turned by Don on his lathe. The photo to the right shows the panel with just the curved corner mouldings holding it in place.