Renovating NB Invalid Saloon 461 - Chapter 8
During the late Autumn of 2009 Jim Ormiston stained up the window framing pieces and the east end wall panelling to match the rest of the east saloon. The framing insert pieces were removed and stripped back to the bare wood to remove all the old varnish before applying the new stained varnish so the wood colour would match the rest of the east saloon. The end result looked very smart indeed.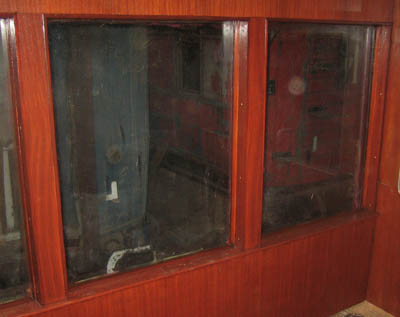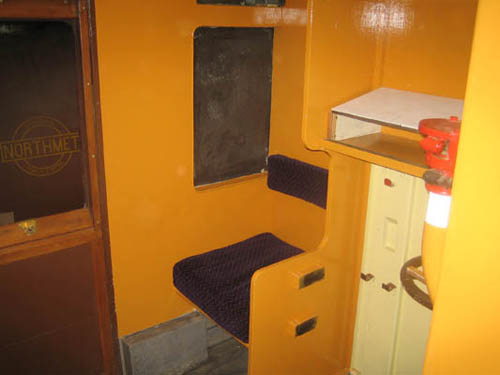 The guard's compartment has now been painted and a writing desk installed. The re-covered seat has now been returned from the upholsterers and has been installed. Dave Simpson's team painted the compartment and Jim Summers made the writing desk.
The corridor doors were removed to allow Dave Simpson to stain and paint them - this included picking out the lower white panel surround in gold. The doors have been re-hung and the whole ensemble looks really great. Dire warnings have been issued to all personnel working on 461 to avoid scratching or dirtying the door panels in the corridor!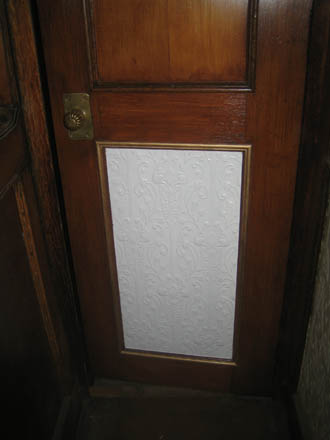 The consumer units in the kitchen have been tidied up with new trunking and panelling. The panelling performs two functions, first to keep the electrical wiring safely out of harm's way and second to improve the appearance of the electrical installation. Part of the operation was to fit the small mains charger underneath the floor boards so that the wiring which used to cross the corridor could now be threaded down through the floor boards to the transformer thus improving both neatness and safety.

The 24v and inverter output (230v AC) consumer unit is at the top, the mains unit is the lower one. The two 24v inverters are on the left and the battery voltage meter is at the lower left.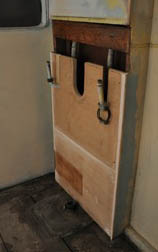 Robbie Thompson masterminded the job of replacing the life expired panelling behind the wash hand basin in the toilet. Two new panels were made up and fitted - the lower panel incorporates an access hatch to allow the drain cock on the small water tank behind the basin to be operated easily. All the pipe cutouts and the design of the access panel made this quite a complex and time consuming job.

The walls of the toilet were also tidied up and sanded in readiness for painting. Don fitted a chrome window bar to protect the window glass. The toilet pan was removed to allow access to screed the floor as a precursor to laying non-slip linoleum.