Renovating NB Invalid Saloon 461 - Chapter 6
The original panels on the east end wall of the east saloon were beyond repair, so new panels were made up to replace them. These photos (by Jim Ormiston) show the new upper panels stained and the lower panels yet to be fully fitted and stained. A replacement windowsill has been manufactured as the original was moisture damaged beyond repair. Only the uprights in the centre window have been stained - the windowsill and outer windows' parts had yet to be treated when these photos were taken in April 2009.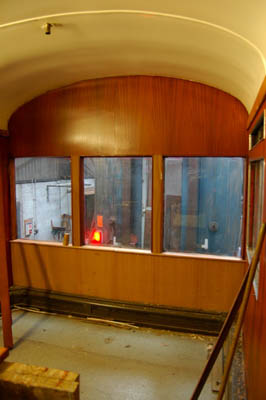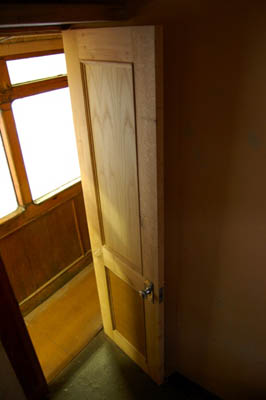 The photo on the left shows the guards door with all its mouldings fitted then sanded and cleaned up ready for staining to match the other corridor doors.











Part of the matching process involved swapping round door knobs so all the doors in the corridor had matching knobs. The result is visible below.
This collection of parts were removed from the inside of the north side exterior door in the east saloon. Quite a collection! Chris Smith then scraped and sanded them down ready for staining and varnishing to match the rest of the east saloon interior wall claddings.
Obtaining brass screws to replace the missing and damaged ones was beginning to be quite difficult as one of the big suppliers stopped stocking anything other than slotted coutersunk in March 2009, and even those were only kept in a very limited range of sizes.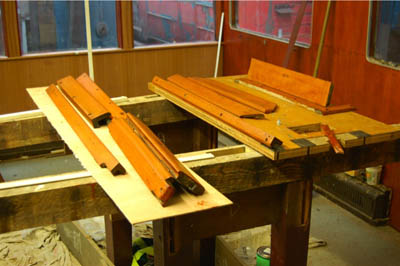 Robin Nelson continued the task of making the electrics of 461 revert to a 24v system. This photo shows the new 24v consumer unit fitted to the wall in place of the 230v mains one which is dangling below it. The mains unit had to remain powered while the other wiring was commisioned - even an engineeer with the skill of Robin can't work in total darkness.
Needless to say, many of the original 24v wires were just chopped off when the coach was converted to mains operation making the re-wiring job that much more difficult.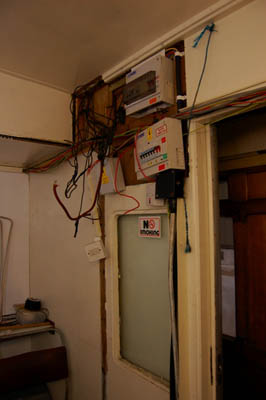 The battery box was to be partitioned to house the 2 heavy duty batteries in the left part with the fuse board and distribution block housed in the right hand part. An ammeter was added on top of the box to allow monitoring of charging and discharge currents.