Renovating NB Invalid Saloon 461 - Chapter 3
At the west end of the coach the gangway is of the traditional pattern but is fitted with Pullman adapters to allow mating with other Pullman gangways such as those fitted to 644.
The adapters can be seen in this photograph on either side of the gangway on a level just above Glyn's head.
The fall plate which forms part of the floor through the gangway was very badly corroded so a new one was fabricated by Glyn Cuthbertson.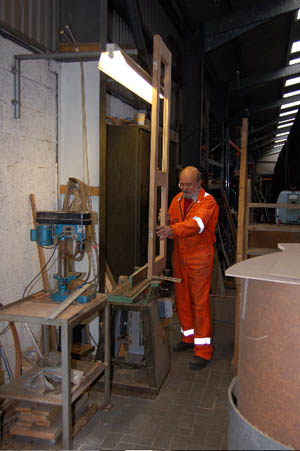 Don started making the two new oak doors in September 2008. First the oak was planed down to the correct width and thickness. This created a small mountain of shavings which were recycled into Hamish's garden as feed/weed suppressant. The cross members of the doors then had tenons fashioned on each end and matching mortices were cut into the door verticals. After a test assembly to make sure everything lined up and was square, the frame was glued together using polyurethane glue which has the facility for being slightly void filling. The glued frame was clamped using sash clamps and left for several days with many brake blocks on top to allow it set as unwarped as possible.

The middle photo shows the first door bottom being planed flat. The light fitting above proved a convenient rest to keep the door frame at right angles to the planer blade. The lower photo shows the horizontal members trial fitted to one of the uprights - the tenons which engage the other upright can be seen.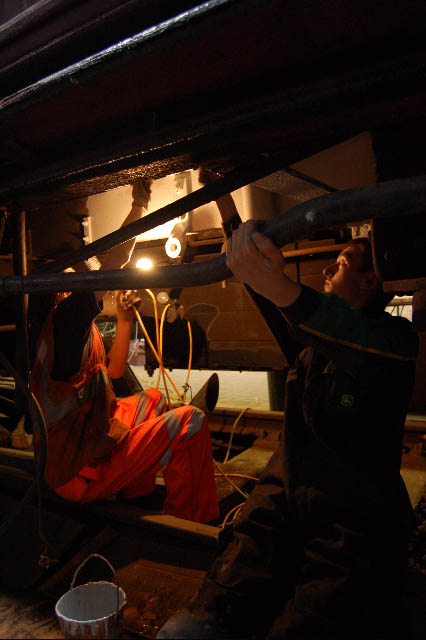 After removal of the vacuum cylinders (quite a job in itself - Stuart Sellar supervising) for refurbishment by Graham Gilmour, the cavities surrounding where the cylinders are fitted under the solebar were cleaned by (young) Chris, our latest addition to the Thursday Squad. On a Sunday in mid-September he brought along his pal Grant and they both set to painting the cleaned area while the vacuum cylinders were still out of the coach.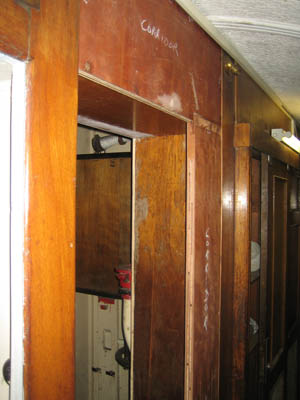 A new parition was constructed to separate the guard's compartment from the corridor. This was fabricated from 25mm oak-faced plywood which is recycled. It came originally from the circular reading table removed from the National Archive for Scotland which was refurbished in 2007. The corridor side of the partition was still to be oak veneered when this photo was taken.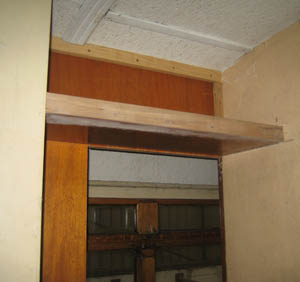 After the corridor "wall" was fixed in place, Jim Summers made a shelf to go above the door opening on the compartment side and this can be seen in the lower photograph. An edging strip was attached to the shelf to prevent things falling off when the coach is in motion.