Renovating NB Invalid Saloon 461 - Chapter 2
Below you can see the replaced and repainted lower steel sheet which has now been fixed in place by many screws. The screw heads were then filled and sanded, then filled and sanded again until Dave Simpson had it absolutely smooth. The sheet was then undercoated and painted in NB maroon. Since the photo was taken, the lamp irons have been fitted by Glyn Cuthbertson using coach bolts and with a generous fillet of non-setting mastic between iron and sheet to keep the water out.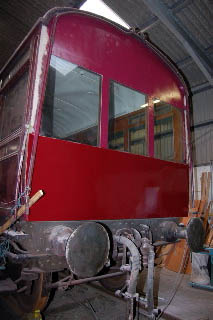 The south side of the coach was in very much worse state than the north having been exposed to more wind and much more sun while performing its Buffer Stop Buffet function in the bay platform. Many parts of the (plywood) trim had rotted away and new parts had been manufactured and fitted by Don. The replacement trim was made from hardwood for a bit more durability.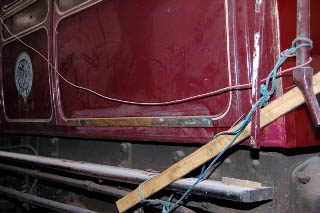 At the southwest corner of the coach, not only had the trim rotted but a part of the frame at waist rail level had gone too. This part was replaced in the dim and distant by very poor quality wood so had not lasted well. It was impossible to remove as one piece (see below). You can see the hole left in the picture below. A new piece of framing manufactured from two pieces of teak glued together was created - it took 2 days work as it was a very complex shape, then glued and pinned in place to be (almost) as good as new.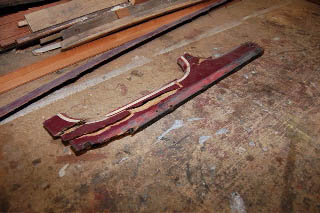 Trim in the soutwest corner covered the rotten piece of framing so had to be removed to get the framing out. Three pieces of this trim were gone too and had to be replaced. You can see 2 of the new pieces in the photo below.
While all this external work was been going on, both vacuum brake cylinders were removed and dismantled for renovation. Not an easy job! Inside the coach, the west saloon was being sanded, a new partition added to facilitate a door into the guard's compartment and various old bits of mains wiring removed. Sustainable Scottish oak has been obtained for the manufacture of the frames for two new doors required for the corridor.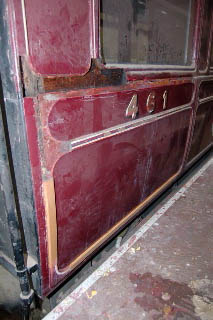 The vacuum brake cylinders were removed for refurbishment. On return and before re-fitting, the cylinders were first undercoated then given 2 coats of black. Dave Simpson is seen here applying coat #1 of black to one of the pair of cylinders.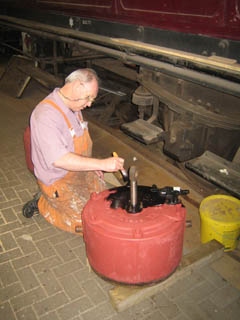 Before leatherette cloth could be fixed to the walls of the west saloon, the varnish had to be removed. All the window trims were first removed, then Alan Wilson set about sanding the flat surface of the walls. A very messy, noisy and dusty job. Then there is all the dust to clean away after the job is completed!