Renovating NB Invalid Saloon 461 - Chapter 15
Robbie patched the damaged mouldings on the south side of the coach. This involved a lot of intricate work. After completing this job he was diverted off to make new washhand basin cabinets for the toilets of Thomson TTO 13803. More intricate and very time-consuming work.
Davy Hall wired the mains electrics for operation of both the lights and the power sockets from 230V AC driven either from a shore supply or from a high power inverter. A twin socket was installed in both saloons to allow the use of low power mains devices, for example, laptops or a digital projector.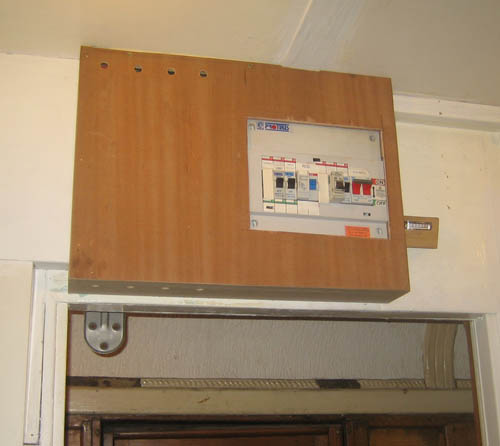 The Consumer units were moved to above the kitchen door to allow space for a cooker filter and extractor hood to be installed. The cooker was to be installed just to the west of the kitchen door as this was the best place to mate up with a roof extractor fan cowled on the centre line of the roof. New panels were put up by Chris to enclose the consumer units and the lighting inverters. The refidgerator recess was cleaned out and a power socket installed for the fridge.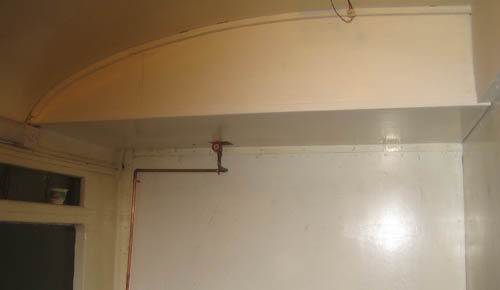 The repaired water tank was put back in place and wrapped with high performance insulation. After boxing in the water tank the whole was painted and looks much more civilised. The cold water (only) plumbing was installed by Don and Alastair MacPhee.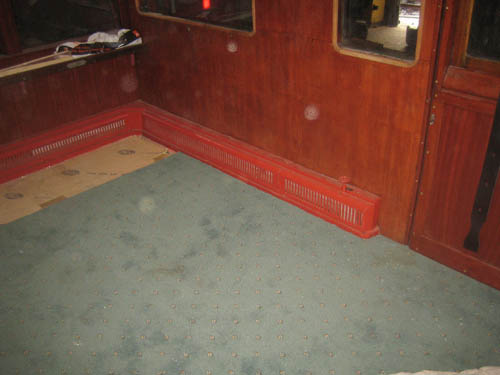 The two saloons were partially carpeted by Miller Muir - this job has still to be completed as a carpet welding machine was not to hand at the time. The brass threshold plates under the exterior doors were fettled by Don & Chris. George (back after a lengthy illness) got on with the job of staining the interior window mouldings.