Renovating NB Invalid Saloon 461 - Chapter 13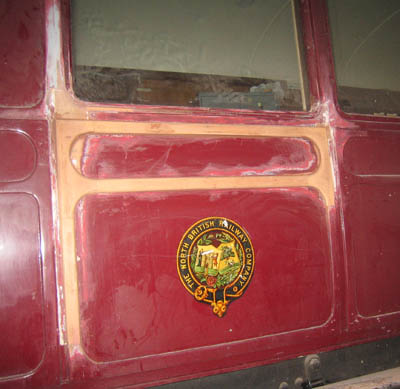 An inspection of the exterior of 461 on the North side showed up 2 panels which had serious problems caused by water ingress from the lower edge of the windows. The photo shows one of the repaired sections. Robbie and Don hacked out all the rotten wood, then filled the holes with curiously shaped blocks of teak glued in with Polyurethane glue. After smoothing down the filled areas flush with the coach exterior, new pieces of trim moulding were pinned and glued in place ready for priming and painting.

As well as repairing problems on the north side, Robbie (principally) has been working on replacing some of the rotten plywood mouldings on the south side of the coach. The south side was the side of the coach most exposed to the elements when the coach was used as the "Bufferstop Buffet" in the bay platform so it is only to be expected that the deterioration would be worse on this side.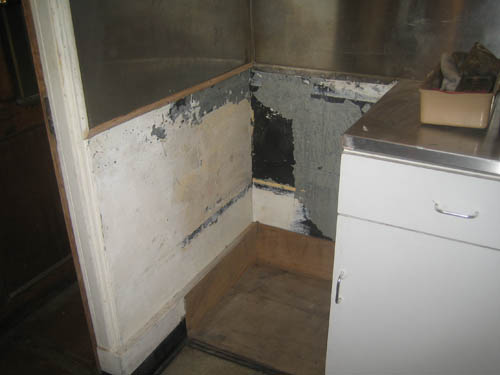 Don cut a hole in the stainless steel worktop in the kitchen originally to house the gas cooker, but then it was realised that this was not the ideal place to put the cooker due to its proximity to the corridor door. The gap was then decreed the place where a refidgerator would go. Davey Hall wired in a new 13A socket behind the cupboard to the right of the above photo to provide power for the fridge.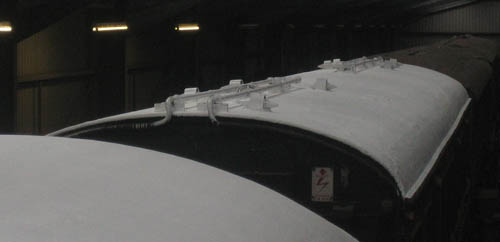 While in roof painting mood (after painting the roof of 644), Dave Simpson and his team applied a new coat of paint to the roof of 461. Before the roof could be painted, Robin & Don cleaned off a large amount of muck using the department's vacuum cleaner. Some touching up may be required after the cooker hood exhaust fan is installed.