Renovating NB Invalid Saloon 461 - Chapter 10

After Matt installed and connected up the toilet pan (left of RH picture) he started work on the installation of the wash hand basin which sits on the pedestal visible to the right of the picture. George Craig was responsible for the polished up original taps.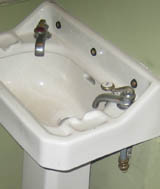 The photo below shows the east saloon in late February 2010. The steam heater grilles have been cleaned up and then painted to improve their appearance. They had suffered from years of being at just the right height to be kicked and scuffed. This picture also shows the mahogany mouldings surrounding the windows on the coach sides prior to these being stained to match the rest of the decor. The new droplight strap is just visible fitted to the door at the right of the photograph.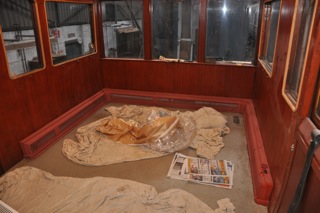 After Alastair McPhee completed bolting the footboards on, George Craig applied black gloss. In the same area, the piping running the length of the coach under the footboards on the south side was painted in grey undercoat by Chris Smith, then glossed in black by George Craig.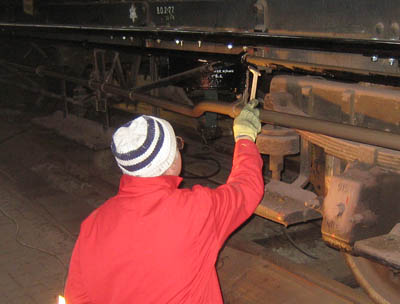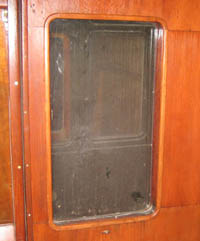 Dave Simpson started staining the mahogany window mouldings in the east saloon to match the panelling. Dashed good match I'd say!
Jim Ormiston continued working on stripping the old varnish from the panelling and the sliding cupboard door in the corridor.