GNSR Ballast Wagon 1329
By JOHN FORREST
Earlier in 2014 the GNSR ballast wagon (1329) was removed from its long-established place in the Museum, having undergone some conservation work, and was brought into the Carriage Shed for woodwork repairs.
It was built in the 1920s to a design that was essentially late Victorian, but on a steel chassis. However, because standard GNSR components were designed to go with a much bulkier wooden underframe, numerous wooden packing pieces were needed to bring everything into line. We don't have anything else like it.
The heavy oak side and end doors are basically sound, with any cracking due mainly to shrinkage over the years. Below the doors, the hardwood sills around the decking were mostly rotten, offering little support to the door hinges. The decking itself was long gone, and what remained of the supporting wooden packing was usable only as templates, which is more than can be said for the oak blocks behind the buffer guides. Fortunately the Society had copies of the relevant drawings and a reasonable stock of hardwood.
With five hinges to each side door, it was possible to repair the side sills in stages without fully detaching the doors, but the end doors and hinges had to come off, as did the buffer guides. The end-sills have been entirely renewed using recovered teak, then the new oak blocks went behind the buffer guides. Re-assembly began mid-October 2014.
New redwood decking planks was obtained, and new packing pieces to support these put place on top of the underframe and ready for bolt-holes to be drilled.
Since the steelwork is not all as straight and level as it was 90 years ago, each piece has been tailored to make it lie properly at the correct height.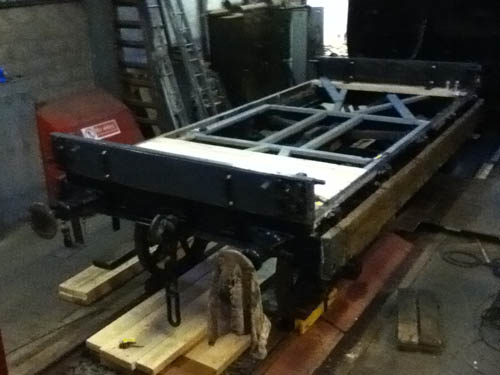 Finally, thanks to the GNSRA for financial support, and to specialist volunteers for their practical support - especially Robbie Thomson & Don Clarke (wood machining), Alex King (bolts & fastenings), and Ian Boettcher (sledgehammer!).