Gresley 1st class Sleeper E1211E Chapter 5
The west half of the corridor was varnished after rubbing down the gold size panel protection. Some of the original panelling required several coats of varnish before a gloss finish was obtained. Window bars were made from chromed tubing then fixed in place. The Thermotank cupboard was "windowed" using plate glass recovered from TK 1002 and a protective bar installed.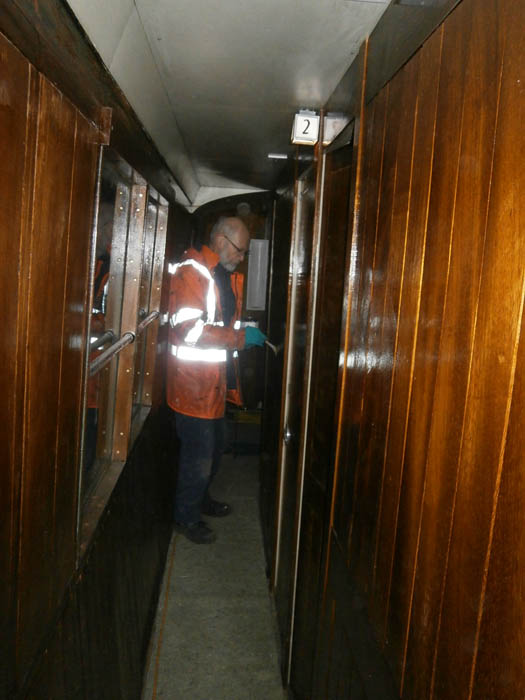 The decoration of Cabins 5 and 6 in 1935 style was completed. After the blue skirting installation, the floor was levelled and carpet underlay fitted. This was followed by navy blue carpet - the nearest we could find to mimic that used by the LNER - then plastic carpet protector was laid on top to minimise the wear. Luggage racks and coat hangers were added to finish things off.
As Cabin 6 has no bed fitted, the table and chair required were installed. The table was made from scratch to resemble that seen in photos from "LNER Carriages" by Michael Harris. The chair is an adaption of a genuine 1930s wicker bentwood chair obtained through an online website then re-upholstered in blue to match the skirting and carpet.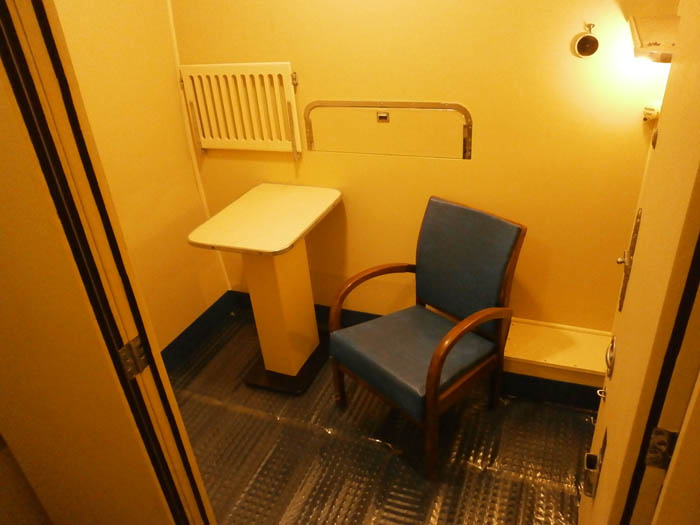 The corridor and vestibules were carpeted. The vestibules were first levelled, then a hard rubber underlay was fitted to support coir matting. This was secured in place by the external door threshold plates, one of which was missing, so a replacement had to be manufactured from polished stainless steel, but it matches the original scuffed chromed brass ones quite well.
The entire corridor and cabins were underlaid using recycled underlay, then the west half was carpetted in navy blue (1935 style) and the east half in a (recycled) BR image orangey/brown patterned carpet. The whole was then covered in carpet protector.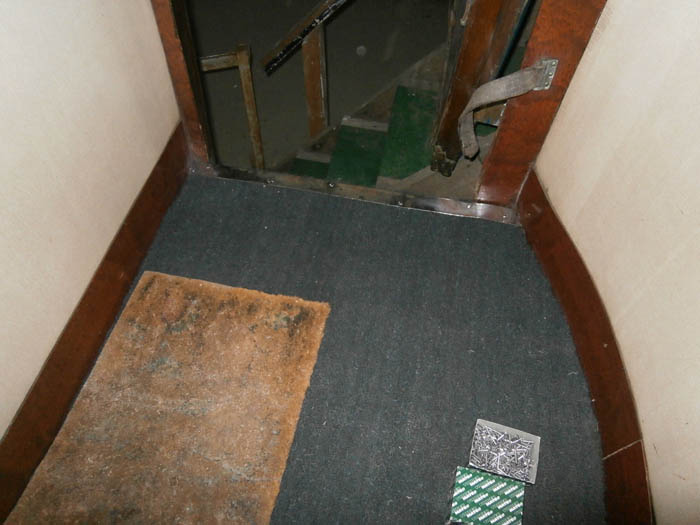 In the west end toilet, a ventilation pump was installed to transfer the dry air from the (yet to be installed) dehumidifier through the carriage ducting to the cabins where bedding, for example, needed protection from deterioration due to dampness. The ventilation outlets in the locked off cabins were stopped off so that dry air would be directed to where it was most needed.
The Formica in the corridor and vestibule at the east end was not, shall we say, "clean", so many hours were spent removing dirt, grime and leftover glue from the gaffer tape used by the asbestos removal contractors. The ceiling of the corridor was one of the most awkward areas to do asscraping above head height is never an easy thing to do.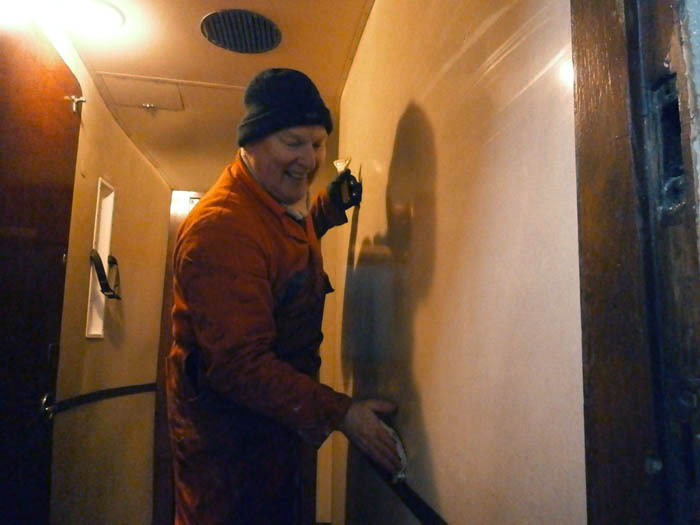 Near the end of the work, the Mk 3 Caledonian sleepers were finally replaced on the main line by the Mk5 stock. SRPS managed to obtain one of these, namely 10580. The ultimate aim is to have the 2 sleepers together with public access both inside and out so the public can gain a flavour of 1935, 1970 and 2000+ eras of the sleeper environment.