Rebuilding Gresley TK 1002 - Chapter 12
Spring 2015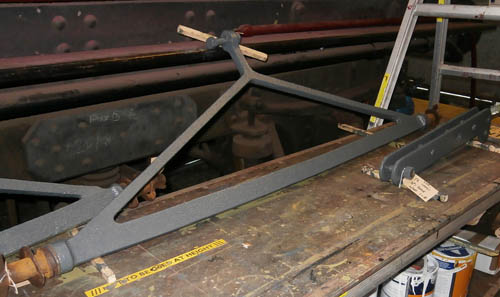 The removed gangways were cleaned up with a needlegun and wirebrush, then primed, undercoated and painted in black gloss. They look a lot better! The brake components (see above) were also removed to allow access to the body mounting bolts. The opportunity was taken to clean these up and paint them.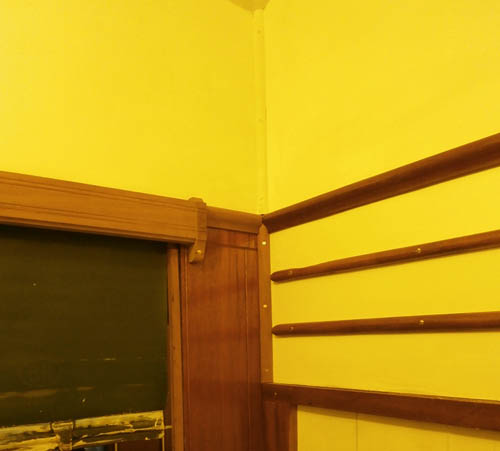 The thickness of the corridor partition suddenly changes just past the corridor midpoint from 1 1/4" to 1 1/2". This was probably due to lack of the correct thickness wood being available when the partition was reconstructed many years ago. Matchboard (3/8" thick) should line the corridor partition on the compartment side above the upholstery. As we were 1/4" short, pseudo matchboard was made using teak-faced plywood with grooves routered into it to simulate the joints. Dave Simpson stained and varnished these panels before they were pinned up in compartments B-D.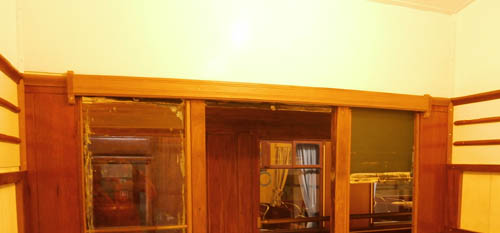 Long blind boxes were manufactured to fit at the corridor side of the compartments. These were screwed in place then the short pieces of "P" section moulding at either side was cut to length and pinned in place. To complete the corridor partition side, quarter round mouldings were screwed into the corner angles - teak below the "P" section rail and painted white above the rail.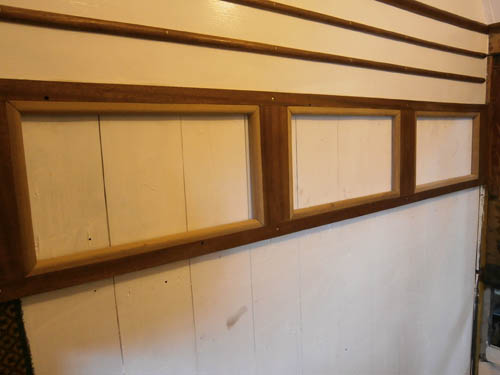 Next step was to manufacture lots of picture frame mouldings (approx 240'). These have a curved front edge and a 1/8" recess at the back into which the picture, backing and perspex fits. We had to use perspex as we were advised that it is not possible to source 2mm toughened glass.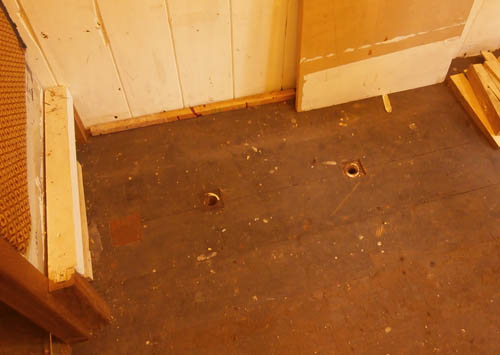 The process of lossening then removing the many bolts fixing the wooden body to the steel chassis continued. Much "unfortunate" language was heard especially when working on some of the more difficult to access nuts above the bogies.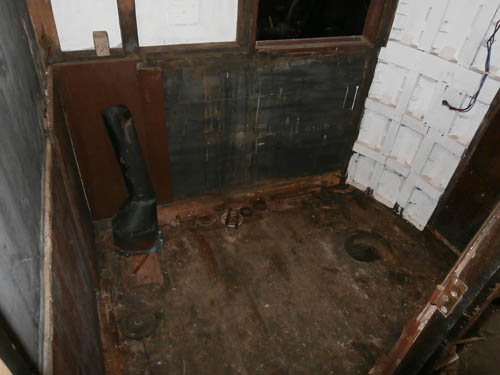 The flooring of the east toilet was removed by an asbestos contractor to allow access to the body fixing bolts in that area. The toilet chute formed a particularly difficult obstacle to removing one of the bolts, but after removal of the offending object, victory was ours!