Rebuilding Gresley TK 1002 - Chapter 4
Winter 2012-13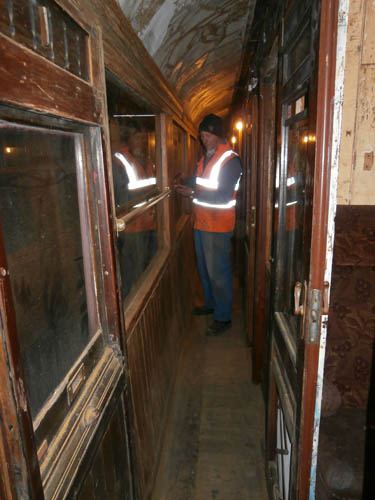 Alistair MacPhee has been scraping the matchboarding in the corridor and cleaning up the window frames and window bars. Various "modifications" by persons unknow in the dim and distant past have created holes, gaps and unsightly discontinuities to the window frames and inner cantrail mouldings, all of which have to mended as invisibly as possible. After all the scraping, patching and mending, the whole lot has to be sanded before re-varnishing is started.
Robbie Thomson continued working in compartment "A". The photo shows the blind cover at the corridor side of the compartment being erected. Some vehicles had totally plain blind covers and some had very fancy round covers, but this vehicle seems to have been somewhere in between - a flat faced cover but with 4 parallel grooves and end stops.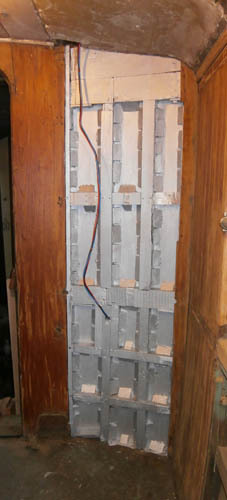 Bob Mowat has continued to work on the coach interior. As well as stripping the ceilings, he has undercoated the glue blocked inside of the east vestibule vertical panelling. Cleaning up of the compartment ceiling ventilators and lamp bezels was also on-going.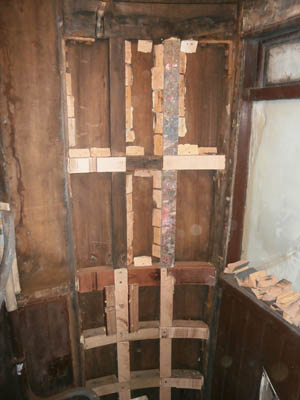 Bob also started glueblocking the west toilet end boarding as you can see from this photograph. Messy business but totally worthwhile. Polyurethane glue was used - good points - fast setting and waterproof; bad points - sets up in the bottle nozzle and goes extremely viscous in Bo'ness winter temperatures.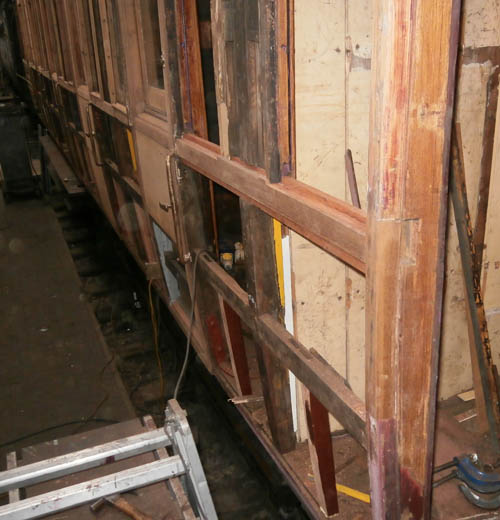 Don continued repairing the framing along the north side of the coach. The photo above shows the repaired framing between the doors of compartments E and F. The waist rail was completely rotten and had to be replaced. Note also the new vertical ribs between the floor and the next horizontal rail. Work on refurbishing the exterior doors was continued by Don aided and abetted by Chris Smith.