Rebuilding Gresley TK 1002 - Chapter 3
Autumn 2012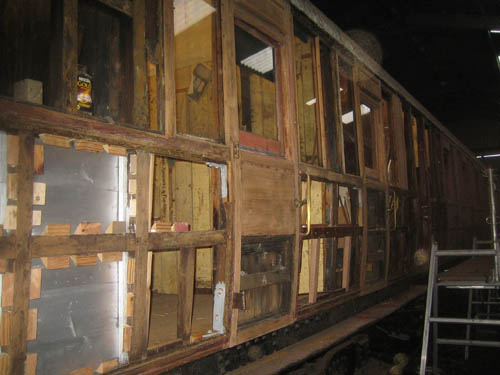 Refurbishing the exterior compartment doors is progressing, but it takes several man-days to dismantle, scrape, clean and sand the resultant frame and many other pieces. Cleaning of the brasswork is also required and consumes Nitromors at a frightening rate. After re-assembly, the doors were re-hung and looked very smart indeed. Some doors require re-panelling (the majority) but this will be done when we get to fitting the main panels to the exterior of the coach.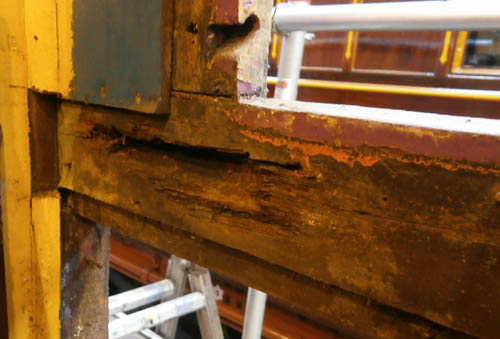 Work has progressed with the stripping of panels from the north side of the vehicle. As well as removing the plywood panels, the framework has been repaired and paint and old varnish scraped from the framing and usable panels. The state of the framework uncovered so far has been not too bad - although the "gentleman" who painted the coach in the evil pink paint is cursed daily as we try to get the stuff off, it clearly did rather a good job of long term preservation of the bodywork.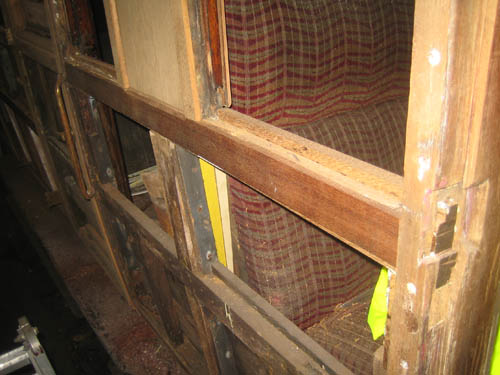 Bob Mowat has continued to strip warped boarding from the compartment ceilings. Robbie Thomson has started the interior work on compartment "A". This is to give us a yardstick to copy for the seven other compartments, and also to give visitors an idea of what it will eventually look like.
As preparation for over-wintering, the cleaned original teak panels and the new ones made from the recovered Helensburgh teak have been goldsized by Jim Ormiston.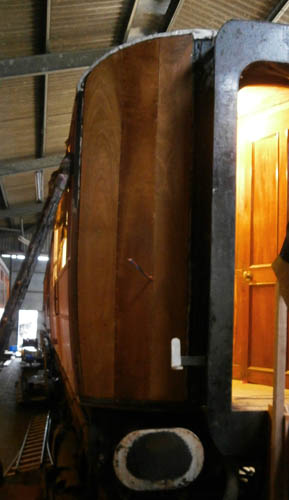 The teak we ordered for the exterior panelling from the LNERCA has largely arrived. The luggage rack brackets are in manufacture and the equipment for the electrical system has been delivered - these items are being financed by a grant from Museums Galleries Scotland. Chris Smith has been hard at work making the wooden parts of the missing south side battery box.