The Wagon Department
There are an awful lot of wagons at Bo'ness and the vast majority are kept outdoors.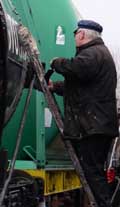 John Forrest is the stalwart who keeps the collection in as good condition as the weather will allow. Black seems to be John's colour - either paint for the chassis or grease for springs, brakes and axles. John also ripped out all the rotten insides from the LMS Third 12059 as described elsewhere.
Ian Boettcher was the supervisor of the SAD project which was largely involved in the restoration of wagons until the project was wound up through lack of funding at the end of 2007. A 12T PAL van, an ex-NB 10T box van, a 12T ventilated van and the LMS 20T brake van have so far passed through the Goods Shed.